Injury Lawyer Marketing for Mass Casualty Events
Personal Injury Lawyer marketing for mass casualty events that will likely result in a class action lawsuit doesn't have to be difficult.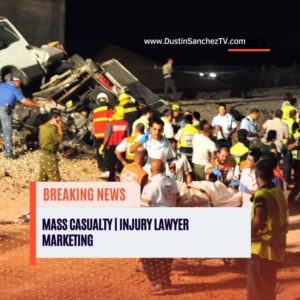 Social media is the easiest way to jump on it.
Most lawyers will immediately want to write a blog article about the event, and that is typically considered an SEO tactic.
However, when the event it "timely" SEO may not be the best method of marketing.
In this case we can really leverage the power of social media…especially short form videos (TikTok, Instagram & Facebook Reels, and YouTube shorts).
How to Find Class Action Lawsuit Plaintiffs
When a ton of people are injured by a single defendant, the marketing tactics change just a bit…but not really.
The overriding principle in lawyer marketing is always: BECOME KNOWN.
Using Social Media for Catastrophic Injury Lawyer Marketing
I discuss how I help my own personal injury lawyer marketing clients do this in the YouTube video below.
Tragic Event Happened – How do I reach out to the victims of this tragic event?
00:00 Injury Lawyer Marketing Intro
04:00 Instagram Marketing for Injury Lawyers
06:40 Personal Injury Lawyer Marketing Case Study
A Few Notes From The Video:
Why SEO Doesn't Really Work Here
Many attorneys are thinking "old-school" and want to write a blog article and try to use search engine optimization to rank an article about the event in the Google search results.
SEO takes time to work. It can take two to nine months to rank an article on page one of the Google search results, and you may not have that kind of time.
However, you can easily make an Instagram Reel, Facebook Reel, TikTok video, and YouTube short about the event. Then use the proper hashtags in your caption to go viral.
These timely event's, like a refinery explosion, a bridge collapse, have virality built into them.
People will like and comment, and as long as you talk about the event, and let the views know that you can help injury victims, then there is a good chance many of them will see the video and contact you.
Live In The Comment Section
Another good tactic is to look for people who commented on other viral posts about the event.
I've seen many comments where people will say something like: "My brother was injured in that explosion."
In that case you can reply to the comment, or you can try messaging that person directly. Just don't run afoul of the lawyer marketing rules in your jurisdiction.
Posts & Images vs. Videos vs. Reels
The algorithms are always changing on each different platform.
It's on you to know which type of post the various platforms are favoring.
When I made this video and article, platforms like TikTok, Instagram, and Facebook were all favoring short form video (Reels) vs live video, long form video, or image posts.
This is illustrated by the two case studies portrayed in the video (Chad Pinkerton vs Miriah Soliz).
You have to stay up to date and know which form of content is best at any given time.
Today it's short form video, tomorrow it may be something else…and it's not always the same on any given platform.
Personal Profiles vs Business Social Media
At this point in time, most lawyers would do best to make zero distinction between their personal profiles and business profiles.
It's all business. There is no more personal profile.
You have to treat your personal Facebook profile as your business profile. Same with Instagram, same with TikTok, same with YouTube.
There is no longer a distinction. YOU ARE THE BUSINESS.
What's Working Now in Lawyer Marketing