I practiced Oil and Gas Law in Texas from 2010 to about 2014. I am fully aware of all the marketing scams the world throws at attorneys.
Dustin Sanchez is a lawyer in Texas, law firm search engine optimization expert and online marketing consultant. Contact him here.

As soon as you put a website up, you start getting calls from AVVO, FindLaw, Yelp, people in India claiming to be "your local Google speciliast," it can be overwhelming.
Will a paid listing on Justia, FindLaw, Yelp, or any other website actually help you get clients?
Probably not. Or not to any extent that would justify the financial outlay…and here is why: Nobody, who is looking for an attorney, logs onto their phone or computer, then goes to Justia, AVVO, or Yelp, then searches for an attorney from one of those platforms.
Now here's the point where somebody says, "But I have a paid AVVO account and I get 2 calls a month from it."
That is the exception, not the rule.
Two calls a month is nothing to brag about.
So, what is the best way to use the internet to get new clients for your law firm every month?
(serious applicants only)
How Attorneys Can Get Clients On the Internet
The technology is changing fast, and what works at the time of publishing this article may be a relic by the time you are actually reading this, but here's the current lay of the land:
if you are not already on the 1st page of the Google search results for your specific search terms, then you are behind the curve
if you are not already using Facebook to target your potential customers with relevant and engaging content and videos, then you are behind the curve
if you are not building an email list of potential customers, then you are behind the curve
Let's take a quick look at each of those methods.
Lawyer Search Engine Optimization
Here is how most people use the internet to find an attorney online:
Use your cell phone, tablet, laptop, or desktop (in that order) to log onto either the Google, Bing, or Yahoo search engine (in that order).
Speak or type the specific keywords that are relevant to the kind of lawyer you are looking for, e.g., "probate attorney," or "Chicago divorce lawyer."
Call or visit the website of one of the first law firms returned in the search results.
That is how the majority of people who use the internet to find an attorney…find their attorney. Search engine optimization is so important, that if you are a lawyer in a major city, a first page Google ranking can change your entire life…it can put you in the next tax bracket or pay off your student loans.
Paid Advertising on Facebook
I'm going to go out on a limb here and boldly state that every one of your potential clients has a cell phone and a Facebook account.
When someone is released from jail after getting arrested for DWI, they check their Facebook, on their cell phone, before using that same phone to call their mother.
Your clients carry their cell phone with them 24/7, and they are a slave to Facebook.
Every new Facebook notification is instantly checked. You probably found this article in your Facebook Feed.
If you are a lawyer who isn't making the kind of money that you want to make, your problem isn't really that you don't have enough clients or that you are not a good enough lawyer.
Your problem is that nobody knows who you are, or what you do. Your problem is obscurity.
There is no easier way to put your face, voice, personality, and business directly in front of nearly every person in your entire city than paid Facebook advertising.
In a city the size of Houston, Los Angeles, Chicago, or even NYC, it would cost you about $300 in paid Facebook advertising to tell every potential client in that entire city who you are, who you help, and how you help them.
AND THIS WILL NOT LAST MUCH LONGER!
We are in the middle of the Facebook Gold Rush. In a few months or a few years, Facebook advertising will be just as expensive, if not more expansive, as Google Pay Per Click.
Building An Email List
You should be doing everything you can to become The Lawyer in the life of everyone with whom you come in contact.
If someone calls your law firm, for any reason, you should be asking for their email address:
Receptionist: Law Office of Sheila Rodriguez. How can I help you?
Caller: Hi, I need to talk to an attorney. I think my wife is going to file for divorce this week.
Receptionist: Yes sir. Can I get your name and phone number in case we get disconnected?
Caller: Sure. Bob Johnson. (555) 555-5555.
Receptionist: Thank you Mr. Johnson. Before I transfer you, I wanted to let you know that Mrs. Rodriguez has a ton of experience with divorce matters. She actually wrote an informational packet for anyone potentially facing a divorce. Can you give me your email address so that we can email that out to you? Many of our clients have found it very helpful.
Caller: Sure. BJohnson@fakeemail.com
Receptionist: Thank you Mr. Johnson. Check your inbox in a few minutes and I'll transfer you to Mrs. Rodriguez' Office.
What just happened?
Mrs. Rodriguez just established herself as a published authority in her legal niche.
Mrs. Rodriguez just became The Lawyer in Bob's life because whether he hires her or not, she is going to send that educational PDF about divorce to Bob. Then about a week later she is going to follow that email up with some other extremely interesting email about some other area of the law that all of us face. Then about a week or two later she is going to follow that up with some other short, interesting, engaging email loosely related to the law. And on and on until Bob has some kind of a legal problem that he needs to have solved. Except this time, he's not going to do a Google Search, or ask his friends if they know a lawyer. He's going to pick up his phone or his laptop and email or call The Lawyer in his life. If Mrs. Rodriguez can help him she will, and bill accordingly. If she cannot help him, she will refer him to one of her referral partners, building trust and good faith along the way.
Additionally, anytime anyone in Bob's life needs a lawyer he just might refer them to Mrs. Rodriguez.
You should be using your website, social media, answering service, business card, and anything else you can think of, to build your email list.
I Need Clients Today, Where Do I Start?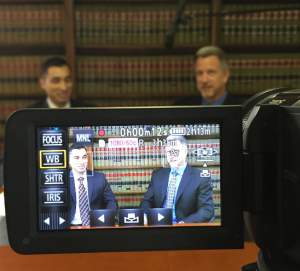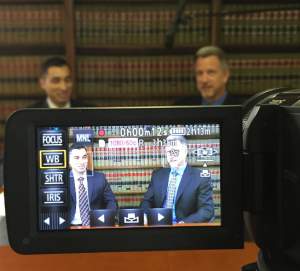 I am a Lawyer Search Engine Optimization Expert, and I use that skill to make attorneys rich. You would expect me to tell you that if you need clients today, then you should hire me to put you on the first page of the Google search results. But, if you need clients right the ____ now, then you might not be able to afford me.
SEO is highly effective, but anything that has the power to completely change your life, is something that you are going to have to be able to invest a marketing budget into.
So if you have the funds, then hire me. But if you need to build your bankroll before you decide on complete domination, then I'd start with Facebook video marketing.
This is a method designed for lawyers who have more time than money. You will be making 20-30 iPhone videos every month and uploading them to your Facebook account. Put a little bit of money behind them, and if you get the targeting and content right, you could easily become The Lawyer in your city within a few months. You might also be interested in my Houston SEO page.