How would your life change if every month your law firm got 100 calls from potential new clients?
Does any of this sound familiar?
Happy Hour Networking Events that have you driving to bars in rush hour traffic on the off chance that someone there can help you get clients.
Buying worthless leads from places like AVVO, FindLaw, & Yelp.
Getting scammed by "online marketing experts" who never do what they promise and give ZERO return on investment.
Dropping thousands on Google Pay Per Click for ZERO return on investment.
Watch This Video in Full Screen, 720p, & Turn On The Sound

Online Marketing for Personal Injury Attorneys – 3 Pronged Approach
Yesterday an attorney called me. She said she'd been putting it off because she just never believed you could actually rank on the 1st page of Google for a keyword like, "Los Angeles Personal Injury Lawyer."
She also believed that there was no way Facebook Ads could help a personal injury attorney sign new clients. That convinced me to make the PROVING IT SERIES.
My 3-Pronged Approach
My 3-Pronged Approach to Lawyer Marketing works in an city, in any legal niche.
Search Engine Optimization
A Content Plan that actually generates new clients
Paid Traffic via Facebook Ads, Instagram Ads, and YouTube Ads (as needed)
Personal Injury Lawyer SEO
Personal Injury Lawyer SEO actually consists of 4 different sub-categories.
Web Design
On-Page SEO
Off-Page SEO (primarily building backlinks)
Google Maps Optimization
Injury Law Firm Website Design
Your website must be optimized to convert internet traffic into phone calls. This is very simple to accomplish, but it may require a complete re-design in some instances.
I do not work with any attorney who does not have a self-hosted WordPress website. If your website is not on WordPress, then you're looking at a re-design and / or a conversion from your current template to a WordPress template.
Website Design Cost
Typical Website Build, Website Re-Design, or Migration to a WordPress template will cost you a minimum of (one-time fee) $3,500 and as much as $8,000+ depending on the complexity of your design and the size of the project.
What does "Optimized to Convert Internet Traffic Into Phone Calls" Mean?
The Law Firm Phone Number should slap the visitor in the Face.
The website has fast loading speeds, especially on a mobile device (cell phone).
The website must have images of you, your team, or videos of same.
The only purpose of a lawyer website is to produce phone calls, so the phone number must be prominent. I prefer top right corner, big font, on every page.
80% of all internet traffic happens on a mobile device. Cell phones have small, slow processors. Nobody is going to wait for your website to load, they are just going to X out and go to the next lawyer who has a fast loading website.
I will not work with personal injury lawyers who refuse to put their image on their website. I will not work with personal injury lawyers who refuse to create 5-10 videos to help market themselves and their practice.
It's a matter of conversion. People do business with PEOPLE. Videos of you, and professional images of you, increase conversion rate because it humanizes you to potential clients.
100 Phone Calls every 30 Days does not happen by magic. If you want these kind of results, then you must trust my system and my expert opinion in all things marketing, especially web design.
Lawyer On-Page SEO
Lawyer Website Domain Names Matter
On-Page SEO starts with the domain name that we choose for your website. If you haven't built a website yet, then I'm going to choose a domain name that maximizes your changes for ranking number one in the search results. If you already have a website, then we are going to analyze whether it's worth keeping your current sub-optimal domain name, or better to build a new website on a better domain name.
Other On-Page Optimization
Here are a few other factors that make up your on-page optimization (this list is not exhaustive)
URL Structure
Home Page Organizational Schema (Law Firm Standard)
Per Page Meta-Data Optimization (Titles, Descriptions, and Article Tags)
Per Page Article Schema (Every page will have it's own Article Schema)
Geo Tags (Certain Pages Will Be Ranked in Certain Cities & require their own Geo Tags)
Image Optimization

Image Titles
EXIF Data
Image Details
Image File Size (to optimize loading speed)

Embedding YouTube Videos
Embedding Google My Business Map
On-Page Interlinking (typically done with the Table Of Contents Plugin)
On-Site Interlinking
On-Page Article Content
Site-Wide Page Speed Optimization
Google Analytics Installed on Site
Google Search Console Setup

Each Page Submitted to Google (fetch as Google)
XML Sitemap Submitted to Google
Video XML Sitemap Submitted to Google

Secured Protocol (SSL / HTTPS) Installation
Content Delivery Network (CDN) Installed
Spider Blocking Installed
Spam / Brute Force Protection Installed
Law Firm Website Backlinking
Off-Page SEO is really just building backlinks to your lawyer website, which I have written about extensively, and you can see my entire "Best Lawyer Backlinks Video Playlist" here.
Every Attorney will face different challenges depending on the strength of competition in your marketing, but a typical backlinking campaign looks like this:
300 Local Business Profiles (these are typically called citations; example: Yelp, YellowPages, eLocal, BBB)
30-100 Web2.0 Properties (sites similar to Facebook, Twitter, LinkedIn, YouTube, SoundCloud, AudioBoom, Quora, Blogger, WordPress.com, etc.)
Several Online Lawyer Profiles (AVVO, LawLink, Cornell.edu, FindLaw, Justia, LawFather, etc.)
Industry Publication Backlinks (guest article backlinks from lawyer related online publications)
How many backlinks do I need to get to page one?
We will analyze everyone on page one in your market area, in your legal niche. Typically we will need similar backlinking profiles.
How long will it take to get to page one?
If you are starting from ZERO, then it can take 9-13 months to get to page one for "Personal Injury Lawyer" in a large city. This is your primary keyword.
You will get to page one much sooner for secondary keywords like, "Personal Injury Lawyer Free Consultation," "Best Car Accident Lawyer in City," "City School Bus Accident Lawyer." These are known as "long-tail" keywords.
Because I was once a practicing lawyer, I am better than anyone in the world at finding high-volume, low-competition, long tail keywords that allow us to rank quickly and begin generating phone calls in one or two months.
When will I start getting phone calls from SEO?
If you are starting from ZERO, you will most likely start getting phone calls from our Search Engine Optimization efforts during month 3. If that sounds discouraging, then consider that our Facebook Ads, discussed below, will generate instant traffic from Day 1, and you may get calls from that Ad on Day 1.
By month 6 of the personal injury lawyer SEO campaign you should be getting regular calls generated by your Google search engine rankings.
Google Maps Optimization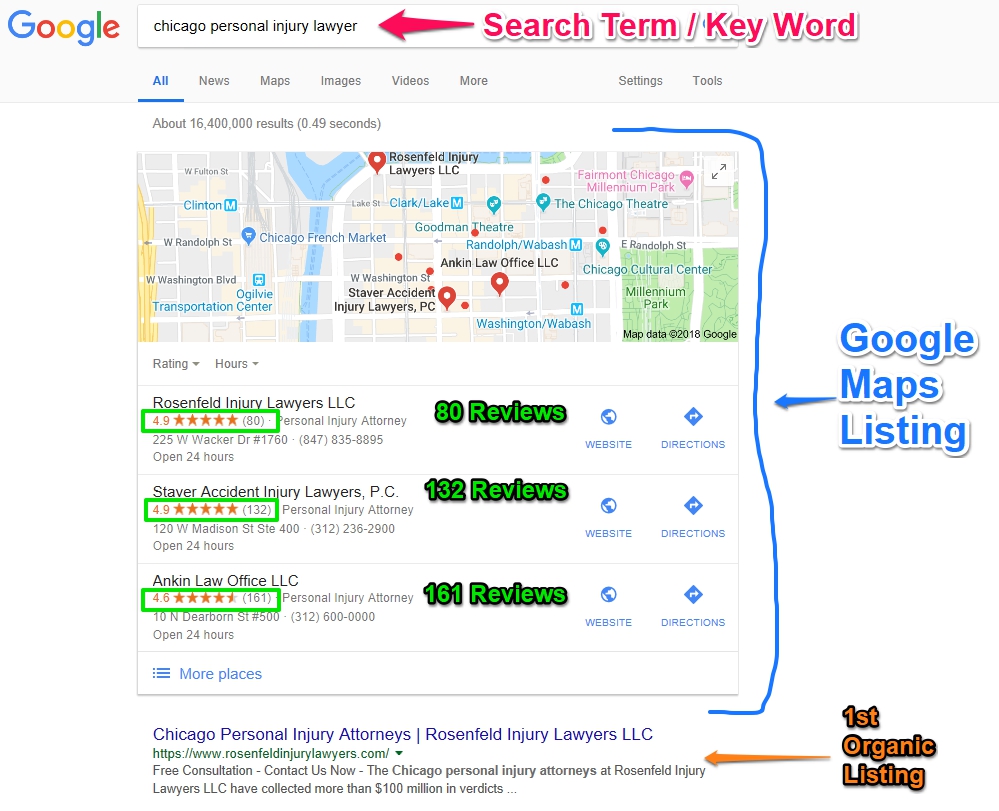 Getting into the Google Maps Listing for your primary keyword is one of the best ways to generate consistent monthly phone calls from search engine optimization.
One of the most heavily weighted factors in getting there, and staying there is the amount of Google My Business Reviews that you have.
How many do you need? That depends on your competition. In Chicago, shown above, you will need several.
How / Where do you get them? You get them from Clients, Friends, Family, anyone who can vouch for your character, professionalism, or competence. You can email them a link to your Google Maps listing (I will give you the link), or you can install a plugin on your website that streamlines the review process (I will tell you where to purchase the plugin).
Reviews are an extremely important part of your SEO campaign. They cannot be faked.
Personal Injury Lawyer Content Plan
My Personal Injury Lawyer Content Plan article went viral back in 2017.
Google search "lawyer blogging" and my American Bar Association article comes up number 1.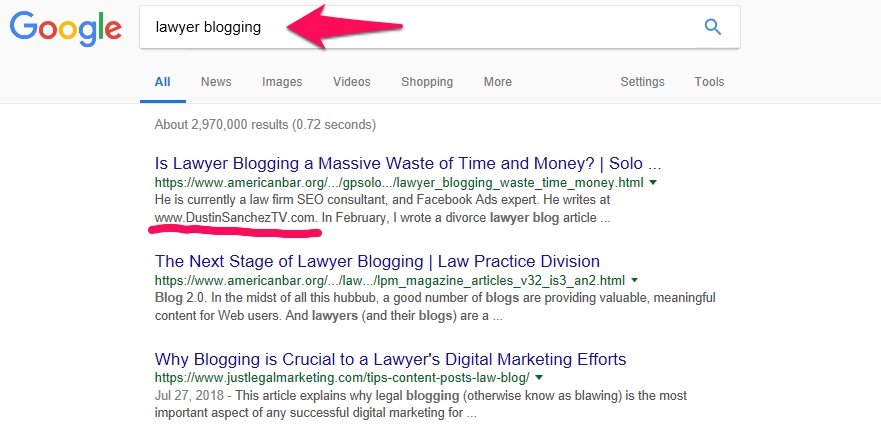 Google search "Personal Injury Lawyer Blog Topics" and my article comes up number 1.
Everyone in your city, who ranks on page one for "Personal Injury Lawyer," has 100 to 500 blog articles on their website generating traffic and phone calls every day.
I'm going to analyze everyone in your city who is winning in this legal niche, determine what article topics they are using to generate traffic and phone calls, and then we are going put those same topics on your website. Then we are going to outrank everybody for those search terms, i.e., steal your competitor's best performing keywords.
Lawyer YouTube Videos
I'm going to send you an initial Content Plan. It will consist of 20 to 25 article topics. My team will write these articles, and I will ask you to choose 5-10 of these topics about which to create a 60-90 second video. I will then create and upload these videos to your YouTube channel.
GOOGLE OWNS YOUTUBE. If we embed YouTube videos on your website, then Google will favor you in the search results.
Video increases conversion rate. People do business with PEOPLE. When someone gets to your website, worried about an injury they just suffered, they are not looking for a law firm, they are looking for a person, someone who cares, and a human being who will compassionately help them. This is why we are going to put as many YouTube videos as possible on your website.
Lawyer Blogging FAQ
Who writes the blog articles? I choose the article topics and my team of writers, many of whom are law school graduates, will write the articles.
What if I don't want to make videos? Then we cannot work together.
What if I don't know how to make videos? It is an extremely easy process. I send you a complete step by step guide.You need an iPhone and $40 worth of lighting purchased on Amazon.
Can I make a White Board explainer video instead? No. You, or some actual human, who is a licensed attorney, from your law firm must make these videos. Alternatively, we can outsource the creation of your vidoes to some fancy lawyer video making company for $10,000+.
Why do I need blog articles? We cannot rank for something that is not on your website. We cannot build authority (and rank) in this legal market if all of your competitors have 100, 200, or 300+ page websites and you're sitting there with a 12 page website. But, the main reason we need blog articles is because we need relevant personal injury lawyer related traffic to your website in order to rank for your primary keywords.
How many blog articles do I need? This depends on how much traffic and phone calls you want to generate, and the strength of competition in your market. At a minumum, most attorneys are going to need at least 20-25 articles.
How much does the content plan cost? This is a one-time fee of $2,750. That gets you 20-25 articles. Anyone can write legal articles. There are hundreds of lawyers in your city with completely worthless blog articles sitting on their website that nobody has ever read. The skill, what you are paying for, is not the written content, it is working with someone who knows how to choose article topics that generate paying clients, and having someone who knows how to optimize each article for the Google algorithm arrange your article on your website.
NOTE: I am not a blogging service. My only interest is getting the articles that we need, to generate relevant traffic that will help us rank for your primary keywords, on your website as soon as possible. If this is accomplished in 25 articles, then that is all the "blogging" I am going to do for you (post 25 articles to your website as soon as possible).
If you require or desire a frequent, repetitive, and on-going blogging service, then our content department will handle that specifically at an additional cost.
Personal Injury Lawyer Facebook Ads
Facebook owns Instagram. These are the 2 most popular social media sites in the world. Facebook also has partnerships with hundreds of thousands of other websites and blogs.
That means that when we turn on a Facebook Ad, that Ad is seen on Facebook, Instagram, and all over the internet on the hundreds of thousands of websites and blogs that Facebook partners with.
Currently there is no better way to reach your potential clients.
How do Lawyer Facebook Ads work?
I have written and video blogged about this more than anyone else in the world.
The Traffic Generation Ad
We will run two ads for you. The first ad is a Traffic Generation ad. We run it to everyone in your city over the age of 18.
Anyone who clicks on it has "raised their hand," and they are telling us, "Hey, I'm interested in Personal Injury Lawyers."
When they click on our ad, we "Pixel" them. Now they are in a pool of site visitors who have expressed interest in what we are selling, i.e., warm traffic.
The Re-Targeting Ad
Ad number 2 is a Re-Targeting Ad. We now begin re-targeting anyone who has already expressed interest in personal injury lawyers by clicking our first ad.
For the next 180 days, every time they log onto the internet, they are going to see your name, face, and law firm.
To this constantly growing pool of people (the re-targeting audience), you are becoming the only lawyer in town.
Personal Injury Law Firm SEO Cost
I don't take on any Personal Injury Law Firm for less than $3,000 per month. Here is a typical price breakdown for an SEO client in the personal injury lawyer or worker's comp legal niche.
UPDATE AUG 12, 2019…All prices listed on this page may no longer be current.
Monthly Recurring Investment


Search Engine Optimization: $3,000 / month for one set of primary keywords, $600 / month for each additional set of primary keywords.

Example Set of Primary Keywords [Houston Personal Injury Lawyer(s), Personal Injury Attorney(s) Houston, and related terms]
Example Set of Additional Keywords [Houston Car Accident Lawyer(s), Car Accident Attorney(s) Houston, and related terms]
Example Set of Additional Keywords [Houston Worker's Comp Attorney(s), Worker's Comp Lawyer(s) Houston, and related terms]

Facebook Advertising Campaign: Consulting fee if purchased with Monthly SEO $300 / month.

$1,400 / month Consulting Fee if purchased separately.

Facebook Advertising Pay Per Click / Pay Per View Fees: No less than $5 per day, per Ad, paid directly to Facebook. This charge is typically $300 per month total, paid directly to Facebook, if you are running a Traffic Generation Ad AND a Re-Targeting Ad.

One-Time Investment


Website Build / Redesign / WordPress Conversion: (if needed) $3,500 – $8,000+ depending on the complexity of the project.

If you require a site build, conversion, or redesign, then your monthly recurring charges will not begin until same is completed. Site Builds, Redesigns, and WordPress Conversions are typically completed in 30 days or less.

Content Plan (20-25 articles): $3,000
Facebook Campaign Setup Fee: $350 if purchased with Monthly SEO. $1,500 one-time fee if purchased separately.
How Do I Get Started?
Step 1: Complete my Client Discovery Form here.
Step 2: Visit my Contact Page to reserve your 30 minute marketing consult (check Contact Page for current cost of 30 minute consult). This is a non-refundable consult fee which protects both of our extremely valuable time.
Step 3: Visit my Contact Page to schedule a 30 minute Marketing Consult Phone call.
During the Marketing Consult Phone Call We Will:
Analyze your current online presence.
Analyze your competition.
Discuss your online marketing needs.
Nail down the final investment required to initiate services, and
Give you a starting date and payment method.
I look forward to working with you.
If you would like to discuss something other than the 5 points listed above, then please send me a list (at least 24 hours before the call) of 1-3 items that you would like to discuss during the call.