How To Get More Online Reviews For Your Business…the easy way
This post is all value, no fluff. I'm really just making it so that I have an instructional article to send to every one of my own clients.
Why Are Online Reviews Important?
At this time, just about everyone realizes that almost all online reviews are bullcrap. Good reviews can be, and are, purchased every day. Bad reviews can be, and are, purchased every day.
Make no mistake about it, for the most part, online reviews are bull crap.
The No. 1 Reason to Get Online Reviews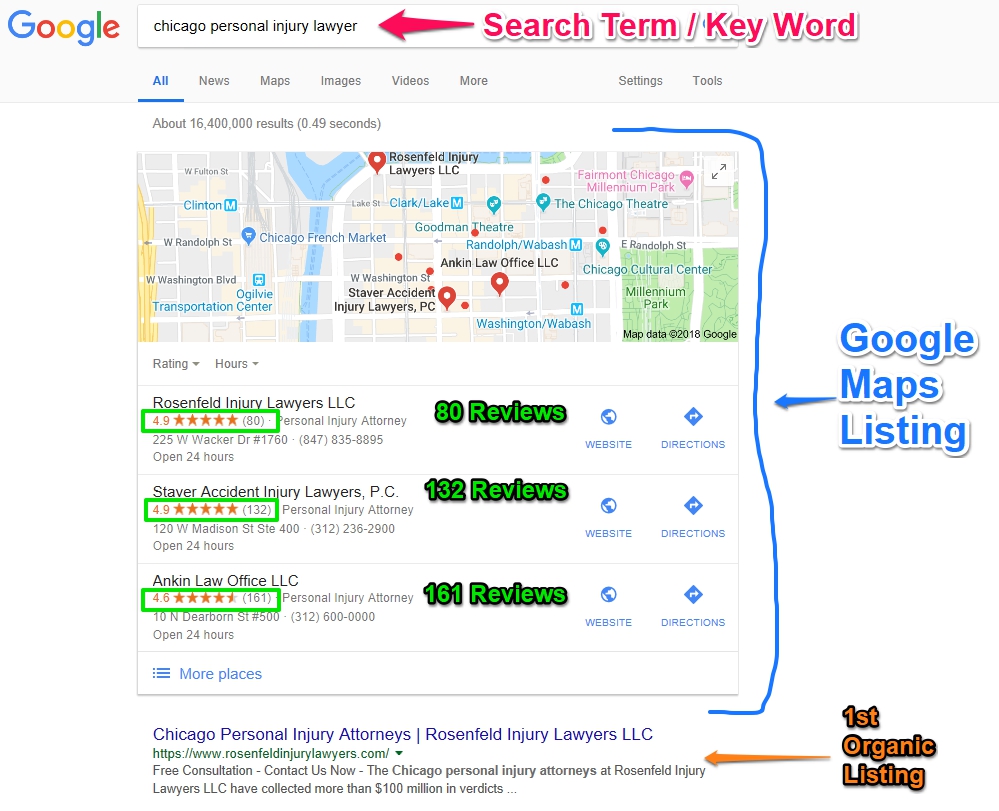 The most coveted spot on any local search result is (are) the 3 Google Maps listings at the top of most local search results.
Three things that determine whether your business will get into the Maps listing are (this list is not exhaustive):
The location of the person performing the search
Your organic search rankings
The number, quality, and relevance of your Google My Business Reviews
Getting a ton of great reviews is the easiest thing to influence on that list.
This is really the only reason we need reviews…to get into and stay at the top of the Maps listing.
Which Online Reviews Do We Need?
100+ Google Reviews, then whatever special platforms apply to your industry or business.
Google Reviews
It's difficult to overstate how much more important Google reviews are to your business than reviews on any other platform. Get 100+ Google reviews before you worry about reviews anywhere else. You need to get into the maps listing…at the top of the maps listing…for every conceivable search term in your niche.
Social Media Reviews
For most service businesses, the most important social media platforms to get reviews on will be LinkedIn and Facebook, in that order. Still, if you don't have 100+ Google reviews, then don't even worry about FB and LinkedIn.
Industry Specific Reviews
A good way to find out what industry specific reviews you need is to Google search something like, "city + service + reviews," e.g., "houston dwi lawyer reviews." In that case, you'll see sites like AVVO and Yelp in the search results. So after you get 100+ Google reviews, then you might want to focus on getting some AVVO & Yelp reviews.
In Real Estate you might need Houzz reviews.
In Plumbing, you might need Yelp, HomeAdvisor, and AngiesList reviews.
In Plastic Surgery RateMDs, Yelp, and Angies List reviews.
Other Reviews
Finally, and this should really be right after Google Reviews instead of at the end here, because these "Other Reviews" are really the most important after getting 100+ Google Reviews.
Do a few Google Searches for your business.
For example, let's look at a company called Rad Law Firm.
Search No. 1: "Rad Law Firm Reviews"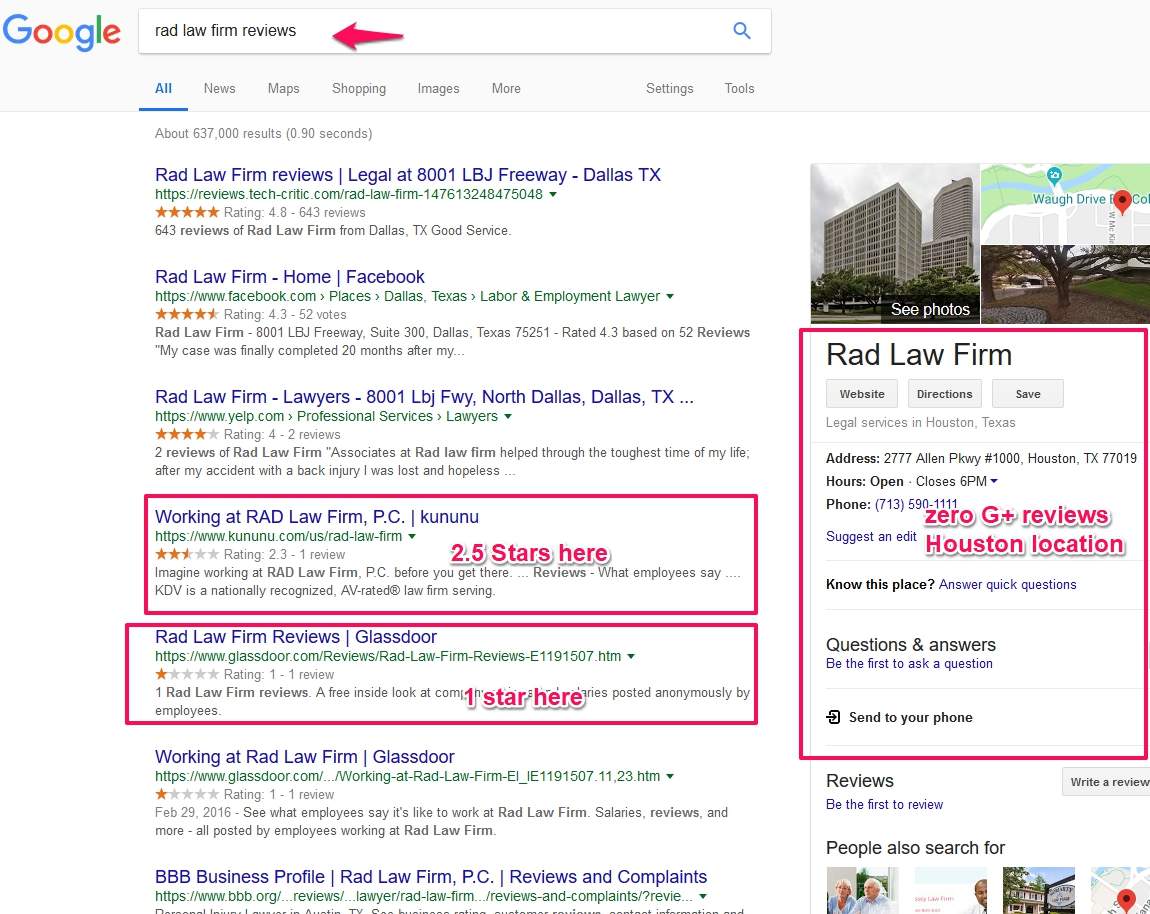 This shows the reviews that most people will see if they happen to search for reviews about your company.
Therefore, you should prioritize getting these reviews.
So my suggestion for Rad Law firm would be
Get 100+ Google reviews are your Houston location as fast as possible, then
Get 10-20 5-Star reviews at kununu.com/us/rad-law-firm (or just hire someone like me to replace that listing with a video review or similar), then
Get some of your own Partners, Associates, and Staff to post a few good Glassdoor reviews (or just hire someone like me to push that review off page one)
The EZ Way to Get More Online Reviews
My mechanic sent me this email 2 days after servicing my car…it worked.
Does This Work?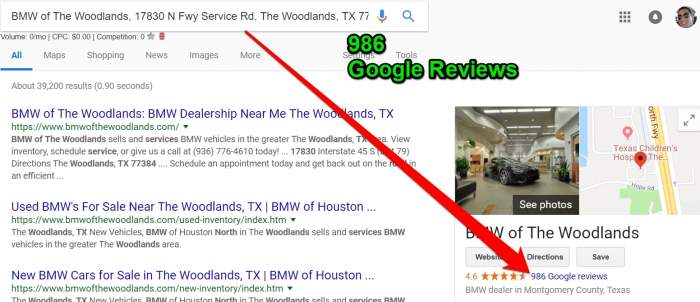 How to Get Your Google Review Link
Do a Google Search for Your Business Name, Your Address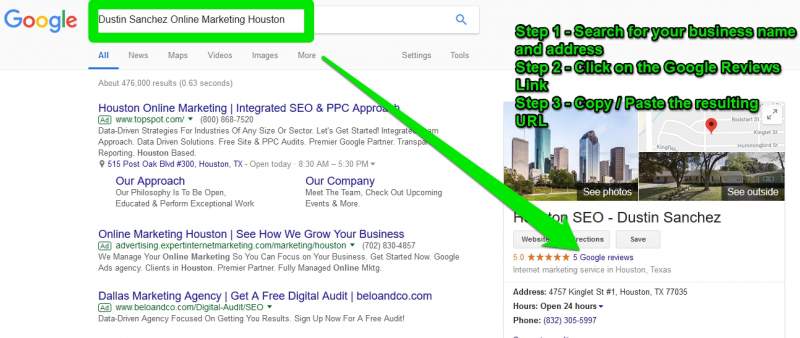 Google search for your business name and address. Doesn't really matter how specific you get, but the search needs to be specific enough such that Google returns your GMB Card in the right hand side of the search results (see image above)
Click on the Google Reviews link.
Once you click on that link, then you need to copy the URL that results in the address bar of your web browser. Then past that URL into a bit.ly shortener or google url shortener. I like to use bit.ly because Google shortened URLs tend to randomly stop working for no reason at all. But, use whatever shortener you are comfortable with.
The Big Ugly Elephant In The Room
You actually have to provide great service if you want genuine and great reviews from your customers.
If everyone of your customers hates you, then do not implement this method because you're just going to get a bunch of really bad reviews.