The Lawyer Marketing Gold Rush
At this point it is almost too easy to use the internet to make a law firm's phone ring every week with new clients begging them to take their money.
Law Firm Marketing Plan That Works
I left my law practice circa 2013 and started helping lawyers market their business online. Business is good. Here's what's working best in today's market…
1) Freaking Facebook Dude
I got my start in search engine optimization, but I truly believe that 2016 is the year Facebook overtakes Google in terms of online marketing for lawyers.
Problem is, most lawyers are doing it wrong. My client's are killing it.
Facebook allows you to do some super-ninja stuff these days. Let's assume you are a divorce lawyer. You write a blog post, "Top 5 Reasons Houston Couples Give for Divorce."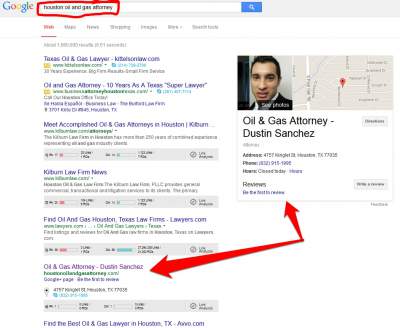 Do you need more clients?
Want to work with someone who actually knows how to bring new clients to your business every month?
Then fill out my Client Discovery Form.
Facebook allows you to geographically target only the Houston area, and select people who have shown interest in things related to divorce.
You put a small amount of money behind this ad and it reaches your exact avatar. Or maybe you don't know as much about targeting as I do…that's fine you just target the entire city of Houston.
Facebook then allows you to install a re-targeting pixel on your website. A person sees your blog post in their Facebook feed, clicks on it, and they are directed to your website so they can read your little 300 word article.
Once they get to your website, Facebook installs a re-targeting pixel on their browser. Most people will not hire you after one contact.
That's no big deal. Because now you set up another even more affordable ad (but much more effective ad) that targets only the people who have visited your blog post (warm traffic / people in Houston who have already shown interest in divorce lawyer services).
Now, every time this person who is interested in a divorce lawyer logs onto the internet, they see your freaking face saying, "Hey I'm a Houston Divorce Lawyer, call 713-555-5555 or click here to ask me a quick question."
And suddenly, you become the most popular divorce lawyer in Houston, because you follow this person everywhere online.
And if you think that's ninja, Facebook video is even better. Google owns YouTube, and Facebook is in mortal combat with all things Google, hence, Facebook gives extreme preference to anyone who uses Facebook Video to market their business.
Facebook video allows you to dominate your entire legal niche with nothing more than an iPhone and some guts. -Dustin Sanchez, J.D.
You can do this with any legal niche, in any city.
2) Google Search Engine Optimization
Some of you live in small towns where SEO competition is almost negligible and it is extremely easy to get to Page One of the search results. You can build a business just off of SEO.
However, some of you live in a large city, where the lawyer SEO competition is a bit stronger (negligible if you know what you're doing). You can build a fortune just off of SEO.
Getting to the first page of Google in a large city like NYC, L.A., Houston, Chicago, Phoenix, San Diego, Dallas, Austin, St. Louis etc….is LIFE-CHANGING.
You will be in a higher tax bracket. Your entire life will look different.
I start all of my clients with SEO just because most businesses aren't ready for the kind of volume that an effective Facebook campaign will bring. We need to test your entire sales funnel first.
Can whoever answers your phones convert a caller into a client? Do you personally know how to close clients? Do you have any kind of follow up sequence in place?
The great thing about SEO is that it builds slowly at first then turns into a self-propelled automatic client generation machine. The slow build-up gives me time to identify any problems in your offline sales funnel that are nullifying your online efforts.
But, while I believe any lawyer can spend about 6 hours a week for the next 3 months and become a Facebook marketing expert, learning how to do effective SEO could take much longer, and if you get it wrong you could ruin your entire online presence.
Notwithstanding, law firm SEO done right, which sends traffic to a webpage that is optimized to convert website visitors into paying clients…is freaking life-changing, and I am probably number 3 in the world at it (minimum top 10 and the only lawyer on that list).
3) Law Firm Email Marketing
If you are not collecting the Name and Email Address of everyone that your law firm talks to, then you are throwing dollars away.
Right now, 80% of you are saying or thinking some stupid crap like, "that's illegal," or "that's against the advertising rules."
Stop worrying about problems you don't have yet, this is why you're not rich yet.
You are a freaking lawyer. Lawyer your way around those rules. Who is better suited to do this than you?
I'll get to why email marketing is so important, but first let's talk about…
Putting It All Together – a/k/a Becoming THE LAWYER in Someone's Life
The goal, plain and simple…
Become THE LAWYER in someone's life.
You should be THE LAWYER in anyone's life who has ever contacted you or your law firm.
And most importantly, nobody, who has ever given you money for legal services, should ever give money to another lawyer without contacting you first.
And once you become THE LAWYER in somebody's life, you also become their sister's lawyer, their brother's lawyer, their mom's lawyer, their golfing buddy's lawyer, their son's lawyer, their co-worker's lawyer.
And then once any of those people get into your funnel, the whole process repeats itself with their life, and their life-network as well.
Facebook, SEO, and Email Marketing make this extremely possible, extremely easy, extremely affordable, and extremely lucrative.
And email marketing is the linchpin of the entire process.
The old online marketing formula was this…
TRAFFIC + CONVERSION = $
The new online marketing formula is this…
TRAFFIC + CONVERSION + RELATIONSHIP BUILDING + FOLLOW UP = $$$$$
Most of you reading this really only have one problem that is keeping you from taking your law firm to the next level. That problem is obscurity.
Nobody knows who you are or what you do.
1) You need traffic. You need to get people (potential clients) into your funnel.
Facebook and Search Engine Optimization are ways to generate perpetual traffic to your law firm online presence.
My clients pay me to generate relevant traffic for them, but you could learn certain aspects yourself if you need to build your marketing budget first.
2) You need conversion.
Many lawyers are driving traffic to a website or webpage that is not optimized to convert traffic into paying customers.
And about 80% of online traffic is from a mobile device internet browser (cell phone, iPad), and you are driving traffic to a landing page that is not optimized for mobile traffic. You are wasting time and money to purchase traffic that will not convert.
All of my clients have websites that are optimized to convert traffic into phone calls into paying clients…and that includes mobile traffic.
3) You need to build an ongoing relationship with your clients and follow up with them forever.
Facebook's re-targeting pixel allows you to follow up with anyone who visited your website and didn't hire you.
You can follow this "warm traffic" all over the internet until they do hire you. You can drive them to an even more specific article and turn them into "hot traffic."
You can then follow them up with Facebook Lead Gen ads to get that hot traffic into your "informational newsletter," and then follow up with them forever via email until they do hire you.
Facebook, YouTube, Google PPC all allow you to make use of re-targeting pixels. These re-targeting pixels allow you to be everywhere all the time until your potential client hires you.
People do business with people they like. It really is a popularity contest.
And these re-targeting pixels allow you to build a relationship before they ever give you any money.
Once someone pays you for legal services you should put them on your "informational email newsletter."
Every month their cell phone should chirp with another one of your extremely interesting, extremely engaging, SHORT, lawyer-ish informational emails wherein you offer zero legal advice and do nothing more than entertain someone for about 2 minutes with some kind of story from your legal life.
You should end that email with something to the effect of "…and if you ever have a legal question, give the office a call, I'd be happy to help you our or point you in the right direction."
That's how you build a lawyer dynasty. That's how you run circles around BIG LAW. It can all be done legally and within the confines of your jurisdiction's lawyer advertising rules / rules of ethics.
And don't forget, it's easier to ask forgiveness than permission. Meanwhile, there is a crap-ton of money to be made, or people to help (whichever motivates you more).
If you are serious about growing your practice right now…
Fill out my >>>Client Discovery Form and I will contact you shortly.
If you didn't click that Client Discovery link above, then you need to do it before your competition hires me.